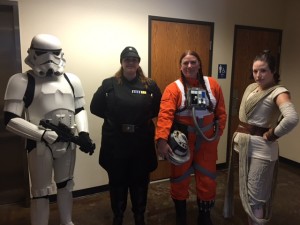 Event Name:Summer Reading Program
Event Date: 07/26/2017
Point of Contact: Lindsay L. ID 11447
Event Rundown: The Buena Clinton community is a low income community that does not have a walking distance library for kids to go and get books. Every summer the Buena Clinton Youth and Family Center encourages kids to read for at least 15 minutes a day. Teen volunteers read to kids ages 0-12 for a whole month. Each week has a theme and every week we try to have a special guest to read to the kids and take pictures with. This allows the kids to see the characters from the books that they are reading come to life. This week's theme was Star Wars, and members of the 501st Legion and Rebel Legion came and read Star Wars books to the kids and took pictures with them.
SCG Approved Attendees:
Lindsay L. ID-11447 Imperial Officer
Danny A. TK-33833 Stormtrooper
Additional Attendees:
Rebel Legion:
Jennifer E. Rey
Kristina G. X-Wing
Additional Notes:
Troop Photo Links: