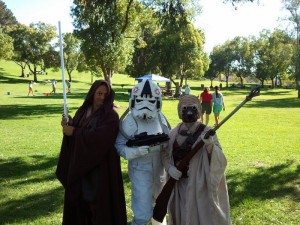 Event Name:BSA "Jedi Academy" Day Camp
Event Date: 07/27/2012
Point of Contact: Lesley Farquhar – Online/Todd Mulin – Onsite
Event Rundown: The Cub Scouts asked us to come join the kids for one of their two annual camps at Lake Poway. We had been asked to do a quick presentation, but one the kids and leaders got up and going with pictures, we were out of time! The kids had a blast asking about a thousand and one questions as well. A very friendly crowd at our location.
SCG Approved Attendees: Todd J Mullin – 8559
Additional Attendees: Mike Moland – RL Jedi
Sarah Stabler – Junior Tusken – First troop in costume!
Additional Notes:
Troop Photo Links: