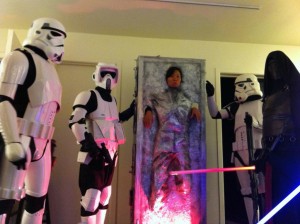 Event Name:"In a Gallery Far, Far Away"
Event Date: 07/28/2012
Point of Contact: Anthony Tran
Event Rundown: This was a quick troop to support a Star Wars themed event at a local art gallery. After a quick change behind the gallery, we got to mingle with the many guests that came to view the all of the original artwork on display.
There were well over a hundred attendees coming and going throughout the night, and the room was constantly filled with at least 40-50 people. Needless to say, between us, the lights, and the 'cantina band' jamming away, it was HOT!!!
Everyone had a great time, especially when taking photos in the Han Solo in Carbonite prop that was on display!
SCG Approved Attendees: Anthony Tran – 5549,John P Duplantier – 7860,kerry s lawler – 6233,Mariannie Nguyen – 3639,Mark Edwards – 7328
Additional Attendees: Vanessa
Additional Notes:
Troop Photo Links: s1101.photobucket.com/albums/g426/tk7328/Gallery%20Troop/