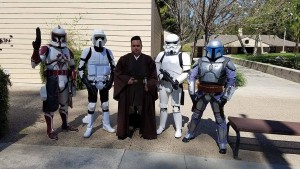 Event Name:Pack 612 Blue & Gold
Event Date: 03/12/2017
Point of Contact: Matt S.
Event Rundown: We were invited by the Rebel Legion to join them at Pack 612's Blue and Gold lunch. We took lot of photos with the boys and their families at their anniversary award ceremony.
SCG Approved Attendees:
Danny A. TK-33833 Stormtrooper
Jason C. BH-32571 Jango Fett
Justin H. TB-36000 Scout Trooper
Additional Attendees:
Rebel Legion
Andrew W. Comm. Fox
Jeremy S. Jedi
Wrangler
Matt S.
Additional Notes:
Troop Photo Links: