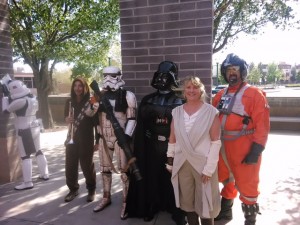 Event Name:John Williams Tribute Concert
Event Date: 04/02/2017
Point of Contact: Daniel Phelan
Event Rundown: Night three of the John Williams Tribute Concert! Just like the other nights, we met with guests before, during intermission, and after the show.
SCG Approved Attendees:
Paul M. SL-86891 Darth Vader
Itzzia C. TK-38282 Stormtrooper
Dan P. TD-20711 Sandtrooper
Additional Attendees:
Scott G. X-Wing Pilot
Additional Notes: After the event, the host told me she was so happy with us helping at her event that she will be donating to the Make-A-Wish Foundation on our behalf!
Troop Photo Links: