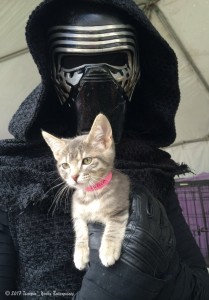 Event Name: Mega Pet Adoption
Event Date: 06/11/2017
Point of Contact: Lori S.
Event Rundown: We were invited to provide a fun atmosphere for their annual event. We accepted donations for photos ops with our troopers to benefit Animals aRe First Fund to support the county with pet adoptions. Over the weekend they were able to adopt out 100 dogs, 34 cats and 1 bunny as well as raising funds for a great cause!
SCG Approved Attendees:
Trevor S. DS-9087 Kylo Ren
Kyle R. TI-17204 FO TIE Pilot
Teri M. TK-21129 Stormtrooper
Nathan G. CT-82937 Clonetrooper
Bill M. TI-38411 TIE Pilot
Jose Z. CT-26030 Clonetrooper
Roy I. TK-93500 Stormtrooper
Amber H. DZ-22514 Jawa
Jacob G. TI-86267 TIE Pilot
Additional Attendees:
Rebel Legion
Rei K.  Rey
Christopher Q.  Jedi
Kit S.  Jedi
Galactic Academy
Maddie R. CREB-1846 Sabine Wren
Riley I. CREB-1075 Jawa
Kolton I. CREB-1074 Jawa
Wranglers
Lori S.
Ryan H.
Additional Notes:
Troop Photo Links: