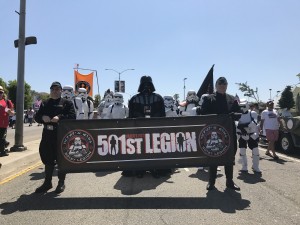 Event Name:4th of July Parade @ LAX Coastal Chamber of Commerce
Event Date: 07/04/2017
Point of Contact: Itzzia C.
Event Rundown: Community 4th of July Parade that has grown exponentially since its inception in 2000. For the last 17 years, the parade brings together the local community, businesses, non-profit organization, and civil organizations to celebrate the holiday. The parade is solely funded by the generosity of the community and local businesses.
SCG Approved Attendees:
Anthony W. SL-71986 Darth Vader
Phillip L. TA-22374 Assault Tank Commander
William G. TK-90277 Stormtrooper
Marshall TK-7105 Stormtrooper
Azari N. CC-81612  Commander Wolffe
Christopher B. TC-69770 Commander Comet
Bert P.  TB-24261
Marlon O. TI-20660 TIE Pilot
Ray C. ST-10351 Shore Trooper
Nicole P. ST-33091 Shore Trooper
Joel A. TA-86402 AT-AT Driver
Alex V. TI-62526 TIE Pilot
Emmanuel P. TK-52227 Stormtrooper
Tony A. TX-32784 Shadowtrooper
Ralf G. TK-8616 Stormtrooper
Randy G. TX-13999 Shadow Scout Trooper
Mina F. TI-14383 TIE Pilot
Mark W. DZ-4255 Tusken
Griffin R. DS-11799 Kylo Ren
Dominick U. TI – 62284 TIE Pilot
Katie S. ID-20661 Admiral Daala
Betty N. TK-88815 Stormtrooper
Gabe G. BH-6378 Boba Fett
Andrew B. TK-21650 Jedha Patrol Captain
Ingrid M. – TK-6818 Captain Phasma
Peter R. ID-8542 Imperial Officer
Gino P. ID-2766 Imperial Officer
Kaylee D. TK-51316 – Stormtrooper
Additional Attendees:
Mandalorians and Rebel Legion
Additional Notes:
Troop Photo Links: