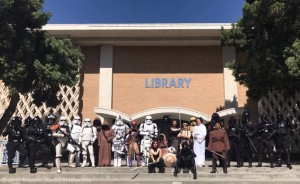 Event Name: Star Wars Reads-Riverside Main Branch
Event Date: 10/01/2017
Point of Contact: Kyle R.
Event Rundown: We once again attended the library's Star Wars Reads event to support reading to kids of all ages.
We took lot of photos with all the attendees as part of the days fun. There was also lots of crafts and games all involved around a Star Wars theme.
SCG Approved Attendees:
Kyle R. TI-17204 FO TIE Pilot
Dawn B. DS-13377 Kylo Ren
Jacob G. TI-86267 TIE Pilot
Miguel M. TI-64449 TIE Pilot
Brandon J. TK-92187 Stormtrooper
Ben H. TK-31977 Stormtrooper
Tim L. ST-71069 Shoretrooper
Sean M. TD-42887 Sandtrooper
Tabitha B. DS-74485 Mara Jade
Teri M.TX-21129 Shadow Scout Trooper
Bill M. TI-38411 TIE Pilot
Edgar A. TK-51342 Stormtrooper
Keith C. DZ-69388 Jawa
Monica C. DZ-18242 Jawa
Tommy A. Sr TA-53177 AT AT Driver
Christopher Q. TX-10982 Shadow Scout Trooper
Additional Attendees:
Ramey C. TIE Pilot
Andrew S. Inferno TIE Pilot
Kelley M. Inferno Squad Iden Versio
Marvee O. Inferno TIE Pilot
Rebel Legion
Natalie B. Rey
Jennifer E. Leia
JoEric M. Jedi
Galactic Academy
Maddie R. CREB-1846 Sabine Wren
Skya C.  1259  Rey
Shayla C. 1260  Jawa
Brey C.  1182  FO Stormtrooper
Tommy A. Jr CTA-2434 AT AT Driver
Wranglers
Michael K.
Steven W.
Lori S.
Kit S.
Sandra C.
Droid:
Chris C. BB-8