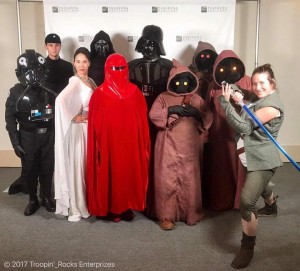 Event Name:Pasadena Heritage 40th Anniversary Gala
Event Date: 10/07/2017
Point of Contact: Lori S.
Event Rundown: In honor of Pasadena Heritage 40th Anniversary and 40 years of preservation they had an elegant fundraising celebration with all proceeds to support their mission to identify, preserve, and protect the historic, architectural, and cultural resources of the City.
As the theme was "40 Years" were were invited to join in as a surprise as this too was the 40th anniversary of the first of the Star Wars film. We took part of their show as well as lots of photos with their guests.
SCG Approved Attendees:
Lori S. DZ-6260 Jawa
Trevor S. DS-9087 Kylo Ren
Sandra C. DS-52519 Jawa
Keith C. DZ-69388  Jawa
Dupree J. SL-10593 Darth Vader
Daniel P. TI-81498 TIE Reserve
Janet K. TR-52638 Royal Guard
John C. TI-14245 TIE Pilot
Additional Attendees: Rebel Legion
Natalie B. Leia
Jennifer E. Rey
Wrangler
Kit S.