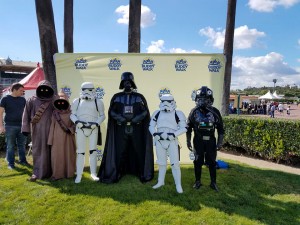 Event Name: Los Angeles Buddy Walk-Arcadia
Event Date: 11/05/2017
Point of Contact: Arnel I.
Event Rundown: The city of Los Angeles with members of the Down syndrome community for an unforgettable day of public awareness. Where there for a fun atmosphere to meet and greet for the whole family .
SCG Approved Attendees:
Keith C.  TR-69388 Jawa
Monica C. DZ-18242 Jawa
Randy B. SL-55177 Darth Vader
Billy F.  TK-61478  Stormtrooper
Nino R. TK-21155 Stormtrooper
John C. TI-14245 TIE Pilot
Additional Attendees:
Wranglers:
Sandra C.
Ellen B. .
Sandra  V.
Robert L S .