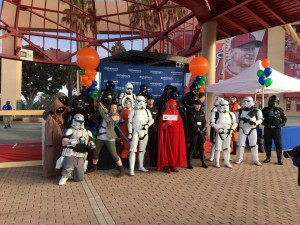 Event Name: Walk4ALZ-Anaheim
Event Date: 11/11/2017
Point of Contact: Joseph P.
Event Rundown: Several thousands gathered for the annual gathering in Orange County, with a long stand partnership with the Anaheim Angeles in the hopes of Fight to Alzheimer's.
SCG Approved Attendees:
Tony B. shadow scout. tx-12015
Ian W. ID-12715, Director Krennic
David S. TI-97531 ANH TIE Pilot
Jessie H TK-10272 ANH Stormtrooper
Randy B SL 55177 Vader
Rando M TX13999 shadow scout
Michael K. DS-10406 Kylo Ren
Keith C. DZ-69388 Jawa
Jason W. TK-19818 ANH-Stormtrooper
Janet K TR 52638 Imperial Guard
Justin H. TB-36000 Biker Scout
Daniel P. TI-81498 TIE Reserve
Monica C DZ-52519 Jawa
Amanda N ID-51666 Imperial Officer
Kyle R. TI-17204 FO TIE Pilot
Bill M. TI-38411 TIE Pilot
Rene M. TK-74249 ANH Stormtrooper
Edgar A. TK-51342 ANH Stormtrooper
Mariannie Nguyen Tx3639 Shadowtrooper
Emmanuel P TK-52227 ANH Stormtrooper
Justin R. TKID-61490 Imperial Staff Officer
Jacob G. TI-86267 ANH TIE pilot
Additional Attendees:
Rebel Legion:
Natalie B. Leia
Megan N. X-Wing
Kristina G. X-Wing
Brent R.  Rex
Wranglers:
Ellen B.
Janice Y.
Joseph P. .
Sandra C.
Additional Notes: Thank You, to all who made this such a Fantastic Day! From the Host, To all of those who suited up, to our Partners from the Rebel Legion. Lastly, A Huge Thank You to all of our Wranglers! Each and everyone presence made this another memorable event to all who attended… Well Done Everyone..!