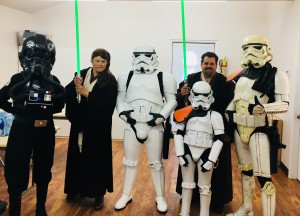 Event Name:(CI) Santa Barbara Museum of Natural History – Sunday 12/3 – Santa Barbara
Event Date: 12/03/2017
Point of Contact: Scott H. TD-93110
Event Rundown: The Santa Barbara Museum of Natural History had an event called 'The Empire Strikes Back(Yard)'….which was held in their outside wooded area (backyard) and reminded me of being on Endor. We posed for photos and high-fived tons of Star Wars fans, handed out trading cards, ticketed younglings with Imperial Citations, and then sped off in our starships. This troop was a blast and we hope to be back next year!
SCG Approved Attendees:
Scott H. TD – 93110 Sandtrooper
Ryan J. TK – 24210 Stormtrooper
Lisa J. TI – 24211 Tie Pilot
Additional Attendees: Rebel Legion:
Miles L. – Jedi
Leiana F. – Jedi
Galactic Academy:
Evan H. CTK – 2708 Mini Stormtrooper
Connor H. CKOR – 2709
Wrangler: Hollanda H.
Troop Photo Links: www.facebook.com/events/322403801562635/329745587495123/?notif_t=admin_plan_mall_activity&notif_id=1512328284456841