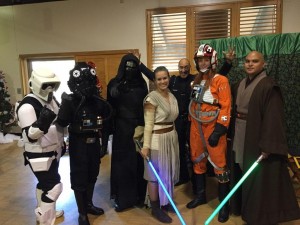 Event Name: Courage and Hope Community Holiday Luncheon
Event Date: 12/21/2017
Point of Contact: Arnel I.
Event Rundown: Annually, LAPD Community Relationship Division (CRD) has hosted a luncheon for the families of those significantly affected by a catastrophic loss.  This event seeks to provide the families comfort and a sense of healing during the holiday season. A visit from Santa with gifts and 501st and Rebel legions where there for the photo ops and meet and greet with all there families.
SCG Approved Attendees:
Griffin R. DS-11799 Kylo Ren
John C. TI-14245 TIE Pilot
Ariel I. TB-6479 Biker Scout Trooper
Additional Attendees:
Rebel Legion
Megan N . X-Wing Pilot
Ronald A. Jedi
Alexandra V. Rey