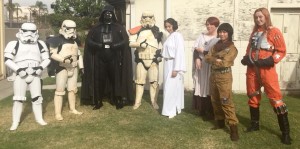 Event Name:Toy Giveaway for Hannah's Children's Home
Event Date: 12/23/2017
Point of Contact: Bren R
Event Rundown: Troopers from the RL and 501st arrived, kitted up, and participated in a toy giveaway and lunch. Activities involved photo-ops, introducing Santa, playing along with the kids who were at the event and generally having fun.
The event started when the kids were invited to try and make a mini stormtrooper turn into a full sized one, by singing "Jingle-Bells" as loud as possible. At the end of the song, rebels, stormtroopers and Vader walked in to the gasps and cheers of the unsuspecting audience.
Felix, the event organizer, was superbly organized and supportive. He was hoping we could do this troop again in the future!
Special shout out to our Vader (who is new), Kurt, who really killed it as Vader, John who wrangled like the pro he is, and all the RL folks, who worked perfectly to interface between the kids and the armored characters. Everyone was perfect!
SCG Approved Attendees:
Curt L. SL-53164. ANH Vader
Brent R TD-10196 (Sandy)
Nino R.TK-21155 ANH Stormtrooper
Fred L TD-14721 (Sandy)
Additional Attendees:
Wranglers:
John C. TI-14245
Additional Notes:
Rebel Legion:
Natalie B. Leia
Kristina G. Mothma
Chelsea C. Rose
Megan N. X-Wing
Troop Photo Links: www.facebook.com/john.acafe/posts/1667452913318783