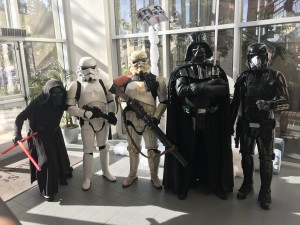 Event Name:Employee Christmas Buffet- "Star Wars Christmas"
Event Date: 12/21/2017
Point of Contact: Rachel T-H
Event Rundown: Atmosphere/Photo Ops
Each year we host a holiday luncheon for our employees to express our appreciation for all their work. The meal is served as a buffet so that everyone on all shifts can attend. We have a photo area for pictures each year. This year, our event theme is Star Wars Christmas and it would be awesome to have some SW characters available for photos with our staff.
SCG Approved Attendees:
Jonathan K. SL-11606 Kylo Ren
Randy B. SL-55177 Darth Vader
Brent R. TD-10196 Sandtrooper
Lance F. TX-23684 Deathtrooper
Danny A. TK-33833 Stormtrooper
Additional Attendees:
Ellen B. Wrangler
Ryan B. Wrangler
Jasmine P. Rey (Rebel Legion)
Additional Notes: 3 Troops in 1 Day!
So proud of everyone and their hard work!