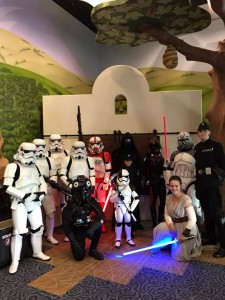 Event Name:Star Wars Trivia at the Mission Viejo Library
Event Date: 01/27/2018
Point of Contact: Colin W
Event Rundown: Everyone who signed up to troop on the forum was able to attend. Brian was missing his Vader chest-piece so he opted to Wrangle instead. The event lasted about one and a half hours. Troopers marched from the Library to through the common area to the event hall. During trivia rounds, Troopers patrolled the room. Photo ops were presented between trivia rounds. Kylo and Rey read answers to one round of questions while an Imperial Staff Officer did the same for another round. The event went very smoothly for everyone.
SCG Approved Attendees:
Colin W ID-71442 – Imperial Staff Officer
Torrey C DS-77787 – Seventh Sister
Griffin R DS-11799 – Kylo Ren
Jason W TK-19818 – AHN Stormtrooper
Matt V TK-14166 – ESB Stormtrooper
Michael M TX-33990 – ESB Stormtrooper
Vincent M TK-50108 – ShockTrooper
John Cafe TI-14245 – TIE Pilot
Niño R TK-21155 – ANH Stormtrooper
Additional Attendees:
Wranglers:
Stephanie S.
Brian Cook SL-25259
Rebel Legion:
Alexandra V. – Rey
Nathan G. – Comet
Galactic Academy:
Jack W CFO-3403 – FO Stormtrooper
Rachel M CID-3500 – Imperial Officer