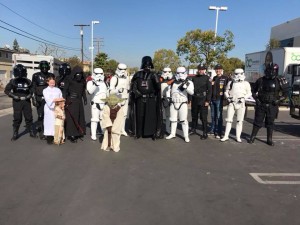 Event Name:Orange County Black History Month Parade and Cultural Faire
Event Date: 02/03/2018
Point of Contact: Colin W
Event Rundown:  Since the group was ready to go early, we were moved up on the parade lineup and set to march behind the Disneyland Ambassador. Marching the 1.1 miles down Anaheim Blvd went smoothly. At the end of the route, the troops were able to refresh themselves on snacks and water provided by Ellen B. After the break, buckets went back on as the troops took to the cultural faire. A shuttle back to the staging area was promised but that too fell through. Lots of photos were taken with the Troops and lots of high-fives were given out to kids in the crowds.
SCG Approved Attendees:
Ian W. TK-12715 Heavy Weapon's Trooper
Tony B. TX-12015 Shadow Scout
John P. TK-46540 Stormtrooper
Jacob G. TI-86267 TIE Pilot
Jonathan K. DS-11606 Kylo Ren
Miguel M. TI-64449 TIE Pilot
Denny D. TK-14303 Heavy Weapon's Trooper
Jose L. TK-91673 ANH Stormtrooper
Jessie H. TK-10272 ANH Stormtrooper
John C. TI-14245 TIE Pilot ANH
Andrew S. TX-91750 Inferno Squad (Del Meeko)
Daniel S. TK-57434 Imperial Bridge Crew
Randy B. SL-55177 Darth Vader
Additional Attendees:
Galactic Academy:
James K. Yoda
Morgan K. Leia
Chuck K. Rey
Wranglers:
Kyle R. TI-17204
Ellen B.