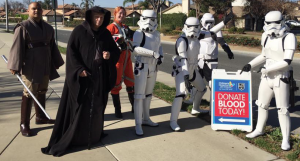 Event Name: Scarlett's Blood Drive
Event Date: 02/11/2018
Point of Contact: Kyle R.
Event Rundown: We were invited to attend this event by 9 year old Scarlett who is a huge Star Wars fan. She has been going to Children's Hospital of LA since she was 21 months old and wanted to give back to help out other children. We provided photo ops with the donors. Some of our Troopers got into the act themselves as well to help out with Scarlett's great cause. In all 51 pints were donated!
SCG Approved Attendees:
Steven S. TB-50131 Biker Scout Trooper
Sarah P. CT-546 Clonetrooper Sinker
Nathan G. CT-82937 Clonetrooper Comet
Andrew B. CC-12193 Commander Fox
Kai K. CC-41255 Commander Wolffe
Randy B. SL-55177 Darth Vader
Steven W. TK-12684 Stormtrooper
Brain C. CC-25259 Commander Gree
Torry C. DS-77787 Seventh Sister
Micheal C. CC-50122 Captain Rex
Edgar A. TK-51342 Stormtrooper
Teri M. TX-21129 Shadow Biker Scout Trooper
Chris H. TK-22051 Stormtrooper
Lenny F. TI-13788 TIE Pilot
Bill M. SL-38411 Darth Sidious
Jessie H. TK-10272 Stormtrooper
Ross P. TK-18592 Stormtrooper
Jacob G. TI-86267 TIE Pilot
Matt K. TI-14812 Imperial Gunner
Danielle P. TA-12793 At-At Driver
Beau P. TI-41077 181st TIE Pilot
Michael K. DS-10406 Kylo Ren
Christopher Q. TX-10982 Shadow Biker Scout Trooper
John R. TI-42685 TIE Pilot
Miguel M. TI- 64449 TIE Pilot
Monica C. DZ-18242 Jawa
Sean M. TX-42887 Shadow Biker Scout Trooper
Tabitha B. DS-74485 Mara Jade
Eric K. ID-40850 Imperial Officer
Additional Attendees:
Rebel Legion
Natalie B. Rey
Magan N. X-Wing Pilot
Scott D. Commander Cody
Ronald A. Jedi
Christopher Q.  Jedi
Jasmine P. Rey
Erica A. Jedi
Sandra C. Jawa (Mos Eisley Base)
Amanda S. Leia
Galactic Academy
Levi C. CD-1912 Ahsoka Tano
Wranglers
Kyle R.
James H.
Greg B.
Matt S.
Ohan G.
Keith C.
John P.
Ellen B.