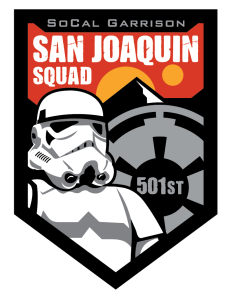 Welcome to the San Joaquin Squad.
The San Joaquin Squad represents members of the Southern California Garrison of the 501st Legion that serve in the farthest northern reaches of our Garrison territory.  This northern territory includes the southern portions of the San Joaquin Valley, where we are geographically separated from our main Garrison forces by the expansive Traverse Mountain Range.  Historically known as a treacherous and winding mountain pass before highway improvements were made, we consider this our Beggars Canyon, connecting Southern California to the Central Valley.  Interstate 5 now provides a safe throughway along this great mountain distance, crossing through Tejon Pass and down the steep grade known as the Grapevine.
Recognizing our geographic separation from Southern California, our Squad is dedicated to providing a strong base of support for our Garrison members who are deployed in this south San Joaquin area supporting and serving charities and other beneficial organizations and events.  Many of our members have been Star Wars fans since the beginning in 1977, and over the past 30 years many of us have seen the Star Wars Universe continue to expand and evolve.  Our childhood passion for Star Wars is still at the heart of our bringing the Star Wars Universe to life for charities, fundraising and making the kid in all of us smile as they see Darth Vader and his Imperial Troops emerge before them.
Above all else, the San Joaquin Squad is here to bring a stronger presence and awareness of the 501st Legion to the south San Joaquin Valley.  In working together with our communities and charities we envision building strong ties of community partnership for beneficial causes while also making sure that we all have fun in the process.
If you are interested in learning more about our Squad, joining us for events, or requesting our participation in a worthwhile cause, we would encourage you to contact us.
The Death Star was not created in one day or by one trooper, but in building stronger partnerships and bonds of brotherhood/sisterhood maybe we can build a base stronghold that even Lord Vader would be proud of.
Sincerely,
Adam Rodriquez (TK-97432)
Squad Leader