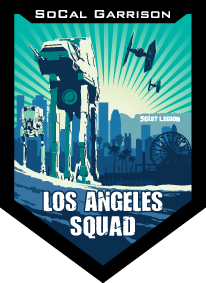 Proudly representing the Southern California Garrison from one of the most internationally recognized cities in the world, the Los Angeles Squad endeavors to advance the social, costuming, and charity efforts in our community.  Our members reflect the vast diversity of the metropolitan area we represent. Bringing the many talents of our members together, we continue to uphold the quality and dedication to costuming for which the 501st Legion is famous.
All of our members are volunteers who dedicate their time and talents to events ranging from the local library to the entertainment spotlight. We lend our support to a wide range of organizations; Make-A-Wish®, Starlight Children's Foundation®, Children's Hospital Los Angeles™ and Relay for Life® just to name a few.
The Los Angeles Squad is always ready for its next battle. Are you ready for the challenge and rewards that await you? Join us and together we can rule the galaxy!