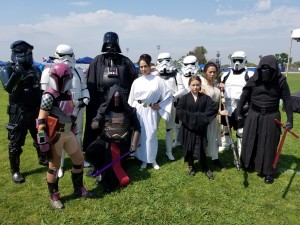 Event Name: Relay 4 Life – La Habra
Event Date: 06/24/2017
Point of Contact: Jason Cecil
Event Rundown: Event, held at La Habra High School's track, officially began at 9:15AM. Legion members were invited to walk with the survivors and caretakers for the SURVIVOR LAP. Members then were asked to present survivors with Survivor Medals. For the rest of the morning, members walked laps with participants, took photos with families, participants, city officials, etc.
Due to excessive heat, we "called-it" at 11:30am to suit down.
SCG Approved Attendees:
Jonathan K – SL11606 Kylo Ren
Sean M – SL21012 – Darth Vader
Jose R – TK91673 – Stormtrooper
Jessie H – TK10272 – Stormtrooper
Kyle R – TI17204 – TIE Pilot
John M – 69269 – Scout Trooper
Danny A – 33833 – Stormtrooper
Phil R – 55188 – Darth Revan
Additional Attendees:
Natalie B – RL Princess Leia
Chelsea C – RL Rey
Madelyn R – GA Sabine
James K. – GA Yoda
Morgan K. – GA Sith Apprentice
Additional Notes:
Troop Photo Links: s569.photobucket.com/user/obrotherracing/library/501st%20-%20Relay%204%20Life%20-%20La%20Habra%202017