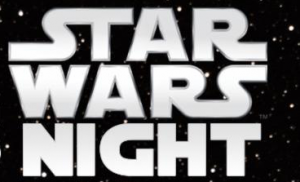 Event Name: Star Wars Night Ontario Reign
Event Date: 12/29/2017
Point of Contact: Mike T.
Event Rundown: We were invited to join in for pre-game photo ops with the fans on their annual Star Wars night of fun benefiting the Make-A-Wish Foundation.
SCG Approved Attendees:
Mike T. TB-1089 Scout Trooper
Kyle R.  TI-17204  FO TIE Pilot
Bill M. TI-38411 TIE Pilot
Jacob G. TI-86267 TIE Pilot
Sean C. TK-77779 Stormtrooper
Denny D. TK-14303 Heavy Weapons Stormtrooper
Tim Mc. SL-6286 Darth Vader
Chris H. TK-22051 Stormtrooper
Nic S. BH-32172 Jango
Additional Attendees:
Wranglers
Julie T.
Susie McC.
Additional Notes:
Troop Photo Links: