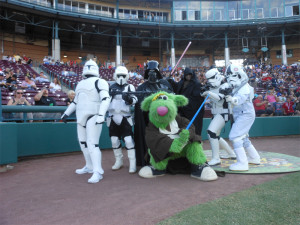 Event Name:Star Wars Night with the Elsinore Storm
Event Date: 05/11/2013
Point of Contact: Lesley Farquhar
Event Rundown: This is a several year repeat of this event for Southern California Garrison. We greet fans as they come in pre-game, participate in special activities like first pitch, Dance on the field with the mascot, etc. We also do photo ops etc.
SCG Approved Attendees: Todd Mullin, TA-8559
Kit Brown, DZ-3603
Stephanie Brown, DZ-6974
Felixx Welliver SL-3180
Sam Hornedo, TB-1064
Carl Arndt, TK-1437
Linda Crispen, TK-8365
Additional Attendees: Christine Mullin, Wrangler
Stephanie Martin, unapproved Jawa
Sean Martin, Wrangler
Mike Moland, RL
Skylar Moland, SDSWS
Leland Moland, SDSWS
Jake Moland, SDSWS
Wolf Petrone, SDSWS
Robert Petrone, SDSWS
Susan Morton, SDSWS
Brandon Jackson, SDSWS
Sarah Barba, SDSWS
Jay Bleu, SDSWS
Alex Carney, Mando Mercs
Charlie Ramet, Mando Mercos
Kristina Schlosser, Mando Mercs
+3 additional LA area Mercs
Additional Notes:
Troop Photo Links: