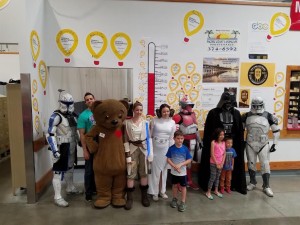 Event Name: CHOC Fundraiser – Costco
Event Date: 05/13/2017
Point of Contact: Michael C. CC-50122
Event Rundown: We arrived to a complete breakfast supplied by our Costco Host. We began trooping at 10am and closed at 1:00pm. We were able to break the single day record for donations for Costco and CHOC. During the 3 hours of trooping, we raised approximately 3k in donations. It was easy to see how excited our members and employees were to have our troopers at Costco. The warehouse was filled with smiles from little kids to adults. By the end of the day, the warehouse raised just over 6k.We finished the troop and were rewarded with pizza and churros!
SCG Approved Attendees:
Michael C. CC-50122 Captain Rex Phase 2
Brian C. SL-25259 Darth Vader
Greg B. CT-63067 Clone Trooper
Carlos S. CC-31170 Commander Thorn
Denny D. TK-14303 Heavy weapons trooper
Jose R. TK-91673 Stormtrooper
Additional Attendees:
Torrey C. DS-77787 Wrangler
Additional Notes:
Troop Photo Links: imgur.com/a/qI8Cf