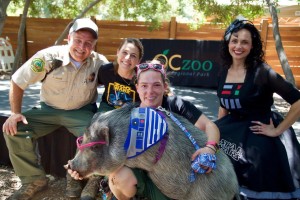 Event Name:Star Wars Day at the OC Zoo
Event Date: 06/17/2017
Point of Contact: Ali E. TK-92081
Event Rundown: This was the second annual orange county zoo troop that is put together to raise awareness for the animals that are rescued. The staff works tirelessly to keep the small zoo running with the help of patrons and the county. We are asked to appear once a year to help promote their "Star Wars Day" where the entire zoo is decorated. We joined forces with the Rebel Legion, Mandalorian Mercs, and Saber Guild to create a special day for kids and adults by combining their love of animals and Star Wars. We did everything from greeting guests to animal presentations and of course the mingling with the guests and animals to provide atmosphere. It was a very successful day and the hosts were grateful for our participation!
SCG Approved Attendees:
Jonathan K. DS-11606 Kylo Ren
Dawn B. DS-13377 Kylo Ren
Griffin R. DS-11799 Kylo Ren
Kerry L. SL6233 Darth Revan
Brian C. SL-25259 Darth Vader
James D. II SL-12172 Darth Vader
Phil R. SL-55188 Darth Revan
Kiefer J. DS-61190 Kylo Ren
Daniel S. TK 57434 Captain Phasma
Torrey C. DS-77787 Seventh Sister
Ted A. BH-40402 Boba Fett
Verona B. BH-0418 Boushh
Tabitha B DS-74485 Mara Jade
Matt S. TK-4202 Stormtrooper
James D III TK-51410 TIE Pilot
Dini M. TK-1542 Stormtrooper
Jacob G. TI-86267 TIE pilot
Lenny F. TK-13788 Stormtrooper
Ryan B TK-10699 Stormtrooper
Danny A TK-33833 Stormtrooper
Jason E. TK-72283 Stormtrooper
Erik J TK-76253 Stormtrooper
John M. TB-69269 Scout Trooper
Tony B. TX-12015 – Shadow Scout Trooper
Justin H. TB-36000 Scout Trooper
Kyle R. TI-17204  TIE Pilot
Miguel M. TI-64449 TIE Pilot
Colin W. ID-71442 Staff Officer (Black Uniform)
Lindsay L. ID-11447 Imperial Staff Officer
Taylor F. TK-21808 Shore Trooper
Teri M. TX-21129 Shadow Scout Trooper
Bill M. TI-38411 TIE Pilot
Shaun S. TA-13690 Tank Commander
Arnold S. TI-42274 TIE Pilot
Denny D. TK-14303 Heavy Weapons Trooper
Jessie H TK-10272 Stormtrooper
Tim L. TD-71069 Sandtrooper
Lane S. CT-42789 Clone Trooper
Ramey C. TI-12530 Death Star Gunner
Ryan T. TK 41178 Stormtrooper
Gordon R. TK-71253 Stormtrooper
Alec S. TK-11253 Stormtrooper
Rando M. TR-13999 Shadow Scout Trooper
Todd F. TB-10078, Scout Trooper
William G. ST-90277 Shore Trooper
Ohan G. CC-13020 Commander Wolffe Phase 1
Stuart L. TI-42501 TIE Pilot
Sean M. TD-42887 Sandtrooper
John P. TK-46540 Stormtrooper
Sean C. TK-77779 Stormtrooper
Kevin R. DZ-9046 Tusken Raider
Christopher Q. ID-10982 Imperial Officer
Ray ?. TA-10351 Tank Commander
Jose Z. ct-26030 Clone Trooper
Additional Attendees: Rebel Legion:
Shawn C. Obi-Wan Kenobi + His awesome car
Natalie B. Jyn or Rey
Brandon J. Finn
Jennifer E. Leia
Randy Z. X-Wing Pilot
Anders P. X-Wing Pilot
Jessica D. Jedi
Keri B. Rey
Galactic Academy:
James K. – Yoda
Haru H. Jedi
Kenzie M – CREY2498 – Rey
Levi C GA CDZ-1912 Jawa
Emily G. GA#1905 Jyn Erso
Lily P – GA – Rey
Mandalorian Mercs:
Emily jackson/mando #1278
Enrique Taylor/mando #1592
Dale Zimmerman/mando #1239
Jade Brush/mando #1775
Victor Meza/mando #1598
Marc Mxakestad/mando #1194
Saber Guild:
Robb Yanagihara
Sarah Walton
Sal Perales
Liz Perales
Amanda Francis
Nick Kessel
Philip Druiff
Anthony Perez
Stefanie Corral
Ron Gluskoter
Wranglers:
Giselle C. Wrangler
Janice Y. Wrangler
Diana T. Wrangler
Eva C. Wrangler
Shannon C. Wrangler
Christine P Wrangler
Michele Headley Wrangler
Katie Bober Wrangler
Nicole L – Wrangler
Janet K – Wrangler
Additional Notes:
Troop Photo Links: