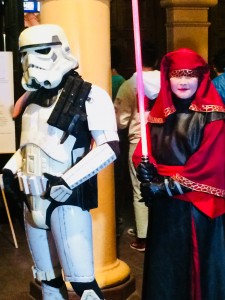 Event Name:(CI) STAR WARS – The Last Jedi Premier – Santa Barbara's Famous Arlington Theatre – Thursday 12/14
Event Date: 12/14/2017
Point of Contact: Scott H.
Event Rundown: What can I say? This was a troop for 'The Last Jedi' premier in Santa Barbara at one of the coolest theaters around….what a blast! The event took place in the middle of the smoke and falling ash from the Thomas Fire (StarWarsStrong!). We greeted movie goers as they entered the theater, walked the line and greeted fans, and posed for tons of pictures.
SCG Approved Attendees:
Scott H. TD – 93110 Sandtrooper
Leiana F. SL – 12491 Visas Marr
Additional Attendees: James G. – Wrangler
Troop Photo Links: www.ksby.com/clip/13984470/star-wars-opening