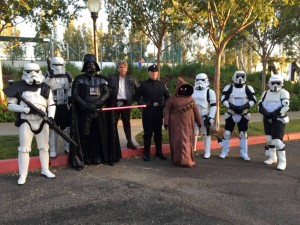 Event Name:SAMLARC's Screen on the Greenscreen
Event Date: 07/21/2017
Point of Contact: Marley Sansom
Event Rundown: Earlier in the week, I spoke with our host, Marley Sansom, and she wanted a few of the 501st to assist her after the movie with a costume contest. I told her I would need to check with the other members.
5:30pm: I arrived on site.
5:40pm: I met the host. We went over what she wanted us to do. This is when we found out that the host did not tell the crowd that we were coming. I made a few suggestions.
6:30pm: Call time.
7:30pm: All 501st members met in the parking lot and we entered from around the back side of the video screen, walked around the screen and then to the back of the event for pictures. The crowd went nuts!
7:45pm: Due to too much sunlight, the costume contest time was changed to before the movie. Three of us assisted with selecting the winners. All 501st assisted with handing out prizes.
8:30pm: The movie started and picture taking dwindled down. I spoke to Marley and she was extremely pleased with the night's outcome.
8:45pm: We all headed back to the parking lot to change back into street clothes.
SCG Approved Attendees:
David S. TI-97531 TIE Reserve Pilot
Randy B. SL 55177 Darth Vader
Shaun S. TA-13690 Tank Commander
Jose L.R. TK-91673 Stormtrooper
Sandra C. DZ-52519 Jawa
Denny D. TK-14303 Heavy weapons trooper
Yvette B. 337 Stormtrooper
Lawrence N. TB-92841 Scout Trooper
Additional Attendees: Rebel Legion:
Jennifer E. Rey
Ian W. Han Solo
Wranglers:
Ellen B.
Keith C TR-69388
Additional Notes:
Troop Photo Links: