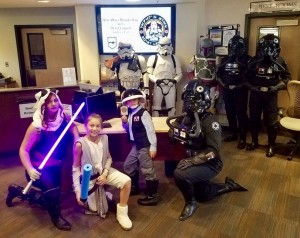 Event Name: Star Wars Day At The Library
Event Date: 10/14/2017
Point of Contact: Tabitha B.
Event Rundown: We were invited by the Rebel Legion to join in on Star Wars Day at Grace Mellman Community Library. We were there to provide  photos for everyone that attended in their fun afternoon event.
SCG Approved Attendees:
Tabitha B. DS-74485 Mara Jade
Josh F. BH-62878 Boba Fett
Sean M. TD-42887 Sandtrooper
Kristen S. TI-32172 TIE Pilot
Bill M. TI-38411 TIE Pilot
Jacob G. TI-86267 TIE Pilot
Daniel R. TK-80818 Stormtrooper
Additional Attendees:
Additional Notes:
Troop Photo Links: