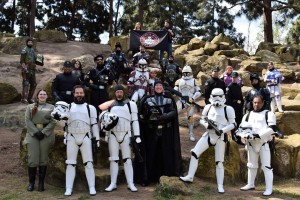 Event Name:Mathew's super trooper
Event Date: 04/08/2017
Point of Contact: Marlon ortiz
Event Rundown: The troopers arrived and hung out. I introduced everyone to the host which informed us she had hired an Easter bunny to entertain the kids but he cancelled. She was so grateful to have us!
After the walk the troopers took pictures with the kids and families. The host gave us food and was very happy to have us.
SCG Approved Attendees:
Katie S. ID-20661 Admiral Dalaa
Brenden P.  TK-13420 Stormtrooper
Brian W. TI-17333 TIE Pilot
Sarah K. TX-43666 Shoretrooper
Johnnie C TI-11854 TIE Reserve
John M. TX-69269 Scout Trooper
Randy B. Sl-55177  Darth Vader
Tony B. TX-12015 Shadow Scout Trooper
Phil R. SL-55188 Darth Revan
Andrew B. CC-12193 Commander Fox
Jason W. TK-19818 Stormtrooper
Rando M. TX-13999 Shadow Scout
Gabe G. BH-6378 Boba Fett
Marlon O. TI-20660 TIE Reserve
Christopher Q. ID-10982 Imperial Officer
Christopher B. CT-69770 Commander Cody
Rob L. TI-76642 TIE Pilot
Robert L-S. TR-30147 Shadow Imperial Guard
Kelvin P. CT-81890 Commander Wolffe
Jose Luis R. TK-91673  Stormtrooper
Wayne C. TI-11781 TIE Reserve
Additional Attendees:
Jeff D.- Solo
Christopher B. Comet
Galactic Academy:
Aidan W. CTI-2603 TIE Reserve
Wranglers:
Deuce017
Lex O. (Per Marlon)
Lindsay L, ID11447
Brent R.
Additional Notes:
Troop Photo Links: