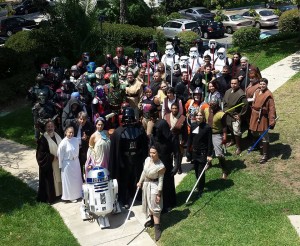 Event Name:Hillsides Children's Home Star Wars Day
Event Date: 08/05/2017
Point of Contact: SL-12743
Event Rundown: More than 60 characters as well as R2D2 descended once again upon planet Earth and invaded Hillsides children's group home. Revelries were had by earthlings and Galactic citizenry, Imperials included. We think that Kylo Ren however, was the star of the day since it was his likeness on a patch that was given to all younglings and costumed characters in attendance. Before the visit even began, children watched an episode of Clone Wars and then were visited by characters from all over the Galaxy. In addition to a patch, the children also received trading cards, inflatable Star Wars beach balls from some very generous donors, and cupcakes were even shared between younglings and Star Wars characters alike. Saber Guild capped off the event with another amazing lightsaber demonstration show. Good times and memories were had and will continue to be had in years to come; this was our seventh year in a row! Thank you to all of the clubs, including the 501st Legion, Mandalorian Mercs, Rebel Legion, Saber Guild, The Dark Empire, and R2 Builders. Hope to see you all again when we head back in December!
SCG Approved Attendees:
Itzzia C. TK-38282 Stormtrooper
Marvee O. TS-67967 Snow trooper
Patrick O. TK-42215 Stormtrooper
Sarah O. TB-13461 Scout Trooper
Michael P. TK-21884 Stormtrooper
Robert L-S. TR-30147 Shadow Guard
Mickey B. TB-81974 Scout Trooper
Alex V. TI-62526 TIE Pilot
Jacko L. TI-88808 TIE Pilot
Emmanuel P. TK-52227 Stormtrooper
Marlon O. TI-20660 TIE Pilot
Katie S. ID-20661 Admiral Daala
Jason W. TK-19818 Stormtrooper
Gabe G. TK-6378 Incinerator Trooper
Evan C. SL-19927 Darth Revan
Jesse L. TK-20515 Stormtrooper
Griffin R. DS-11799 Kylo Ren
Mallory T. DZ-31589 Jawa
Nicole P. TB-33901 Stormtrooper
Andrew S. 91750 Inferno Squad Trooper
Additional Attendees:
Additional Notes:
Troop Photo Links: www.facebook.com/lordbruticus/media_set?set=a.10155167570183241.1073741841.577068240&type=3