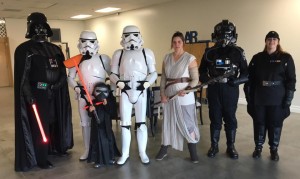 Event Name:Fun 4 Kids Preschool Open House
Event Date: 05/19/2017
Point of Contact: Erik J – TK76253
Event Rundown: Every year the Fun 4 Kids school puts together a Annual Open House for their current families and for the public to come at have a great time at the school. Classrooms were decorated with work from the students for the parents, and there were vendors and a pony ride as well. The 501st was invited to this event for photo ops and atmosphere. walking through the classrooms as well as having photo ops outside. The kids loved us and their parents couldn't have been happier!
SCG Approved Attendees:
Erik J. TK-76253 Stormtrooper
Lindsay L. ID-11447 Staff Officer
Richard B. TK-17695 Stormtrooper
David S. TI-97531 TIE Pilot
Randy B. SL-55177 Darth Vader
Additional Attendees: Rebel Legion:
Rachel B. Rey
Galactic Academy:
Alaestor J. CKOR2903 Kylo Ren
Additional Notes:
Troop Photo Links: