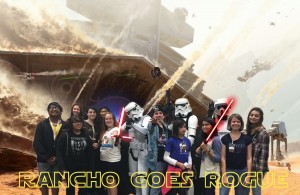 Event Name:Rancho Goes Rogue!
Event Date: 12/14/2016
Point of Contact: Audra
Event Rundown: The Rancho Santa margarita Library has a VERY active Teen Program that likes to host many events through out the year. As the Opening Day for Rogue One grew near it was a unanimous decision amongst there group to have a fun filled Star Wars evening for kids of ALL ages to celebrate the opening of the latest edition of the Star Wars universe!
Our Youth Coordinator, Audra, had put together a handful of fun activists for all the kids to participate in that evening. Upon arriving to the RSM Library all the kids would being the night by creating an an authorization badge, writing their name in Aurebesh of course on it! This would then grant them full access to activity stations that evening. The Activities that evening would be Trooper Target Practice (which all good Future StormTroopers need!), Star Wars Puzzle Assembly, Trooper Photo Op, LightSaber Book mark design and Death Star bean bag toss!
Kids of ALL ages had a blast with our troopers that night and everyone in attendance looks forward to more events with the 501st!
A HUGE thanks to Audra @ The RSM Library staff for helping to coordinate such a fun filled evening!
SCG Approved Attendees:
Tommy A. TA-53177 AT-AT Pilot
Shaun S. TK-13690 Stormtrooper
Justin H TB-36000 Scout Trooper
Jason Watts – TK-19818 Stormtrooper
Additional Attendees: Galactic Academy:
Tommy A. Jr. CTA-2434  AT-AT Pilot (1st Troop!)
Additional Notes:
Troop Photo Links: goo.gl/photos/93nQpJzWGcX6Lpsq5