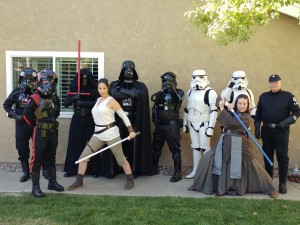 Event Name: Liam's Special Day
Event Date: 10/22/2017
Point of Contact: Bill M.
Event Rundown: We were invited to a special day for Liam but the real reason for our visit was for Liam's dad who has stage 4 colon cancer.
He is a huge Star Wars fan so we showed up to surprise him. He loved what turn out to be his special day too. We took lots of photos with everyone,
it was a great day!
SCG Approved Attendees:
Bill M. TI-38411 TIE Reserve
Ramey C. DZ-12530 Kylo Ren
Kyle R. TI-17204 FO TIE Pilot
Jacob G. TI-86267 TIE Pilot
Andrew S. SL-91750 Darth Vader
Tim McC. TK-6286 Stormtrooper
Daniel R. TK-80818 Stormtrooper
Additional Attendees:
Kelley M. Iden Versio TIE Pilot
Rebel Legion
Natalie B. Rey
Jennifer E. Jedi
Additional Notes:
Troop Photo Links: