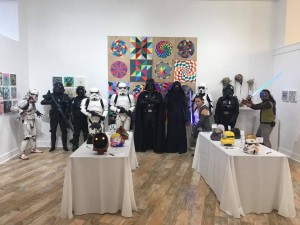 Event Name:501st Legion TK Helmet Art Auction: Make-a-Wish Fundraiser
Event Date: 07/15/2017
Point of Contact: Steven Schultz
Event Rundown: Members of the 501st Legion donate their helmet artwork for auction to raise money for Make-A-Wish and the 501st Endowment fund. With 25 helmets, we raised over $2500 in donations and still have more money coming in! Troopers walked the gallery and mall enticing potential bidders to come in and check it out. The highlight of the auction is when Ashley Eckstein (Ahsoka herself!) called in and placed the winning bid for the Ahsoka helmet!
SCG Approved Attendees:
Michael K. DS-10406 Kylo Ren
Brian C. SL-25259 Darth Vader
Danny A. TK-33833 Stormtrooper
Jason E. TK-72283 Deathtrooper
Justin H. TB-36000 Scout Trooper
Emmanuel P. TK-52227 Stormtrooper
Randy M. TX-13999 Shadow Scout Trooper
Katie S. TI-20661 TIE Pilot
Sean C. TK-77779 Stormtrooper
John M. TB-69269 Scout Trooper
Kyle P. TX-23701 Shadow Trooper
Additional Attendees: Rebel Legion:
Liz P – Rey
Wranglers:
Janice Y
Natalie B
Sal P
Daniel C TB-91728
Giselle C TK-75001
Jack C TK-11037
Matt S TK-4202
Michael C CC-50122
Additional Notes:
Troop Photo Links: