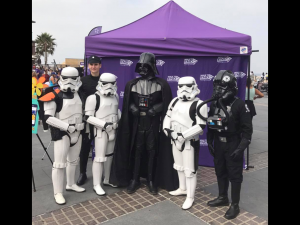 Event Name: Walk to end Alzheimer's Beach Cities
Event Date: 09/30/2017
Point of Contact: Willam G.
Event Rundown: Troopers interacted with the event participants as they gathered into their groups for participation in the event walk. Interaction included: mingling, posing for photos and giving high five hand shakes, handing out trading cards, dancing, and cheering on announcements with the crowd.
When the charity walk started the troopers cheered on and gave high fives to the participants as they headed off on the walk route, and then cheered them on upon their return also.
The crowd was very excited by our presence.
The event coordinators said they love having us. They also said that we helps them to raise approx $5000. for the Alzheimer's Association at this event.
SCG Approved Attendees:
Daniel P. TI-81498 TIE Reserve
Dupree J. SL-10593 Darth Vader
John C. TI-14245 TIE Pilot
Emmanuel P. TK-52227  Stormtrooper
Angel P. TK-14160  Stormtrooper
Denny D. TK-14303 Heavy Weapons Stormtrooper
Additional Attendees:
Wranglers
Bert P.
William G.