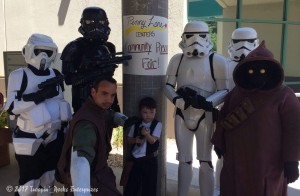 Event Name:Partnerships for Families- Resource Fair
Event Date: 06/24/2017
Point of Contact: Jeremy T.
Event Rundown: Penny Lane Centers is a non-profit social services agency that has been serving kids and families in Los Angeles County for nearly 50 years. PLC hosted a community resource fair for their Partnerships for Families program, where kids, teens, and their parents could come and learn about resources available to them in the Antelope Valley. The event included games, balloons, and lunch provided by In-N-Out, as well as an appearance by the 501st and Rebel legions to interact and take pictures with the kids and their families.
SCG Approved Attendees:
Jeremy T. TK-10395 Stormtrooper
Edgar A. TK-51342 Stormtrooper
Billy F. TK-61478 Stormtrooper
Trevor S. TX-9087 Shadow Stormtrooper
Sandra C. DZ-52519 Jawa
Amanda C. TB-11106 Biker Scout
Additional Attendees: Kit S. 2384 Wrangler
Colton B. Jedi.
Jeff D. Solo
James C. – Wrangler
Chace C. – GA Han Solo