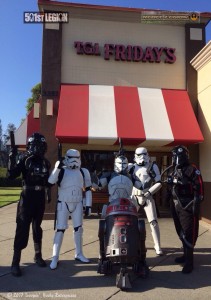 Event Name:Celebrating for Charity
Event Date: 05/04/2017
Point of Contact: Kit S.
Event Rundown: This was our second year joining with TGI Friday's for May the 4th to raise money for Project: Wish Upon A Star to benefit Camp Ronald McDonald for Good Times. This year raised $1150.75!
SCG Approved Attendees:
Edgar A. TK-51342 Stormtrooper
Trevor S. TI-9087 TIE Pilot
Chris H. TI-13666 TIE Pilot
John P. TK-46540 Stormtrooper
Additional Attendees: Rebel Legion
Gabriel A. Commander Wolffe
Wranglers
Kit S.
R2Builders
Manuel C. R2
Additional Notes:
Troop Photo Links: