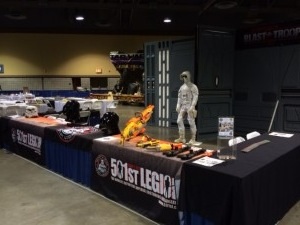 Event Name: Long Beach ComicCon
Event Date: 09/27 & 28/2014
Point of Contact: Rob S.
Event Rundown: LBCC was a huge success! Over two days we introduced many people to the 501st, put countless smiles on children and adult faces, shared our love of Star Wars and raised over $1,300 for Children's Hospital of Orange County!
SCG Approved Attendees:
Saturday:
Carlos F. TX-5703 Shadowtrooper
Matt M. SL-41130 Nihilus
Stephanie H. TB-4946 Biker Scout
Daryl H. TI-8086 Tie Pilot
Drew Hannah IG-4237 Imperial Gunner
Cesar L. TK-18690 Stormtrooper
Jason C. BH-32571 Jango Fett
Dawn B. SL-13377 Darth Sidious
Nate F. TK-11388 Stormtrooper
Derek D. TK-27555 Stormtrooper
Andrew S. TI-91750 Tie Pilot
Kerry L. SL-6233 Revan
Jeremy T. TK-10395 Stormtrooper
Jesse L. TK-20515 Stormtrooper
Sunday:
Carlos F. TX-5703 Shadowtrooper
Jason C. BH-32571 Jango Fett
Randy F. TB 21193 Biker Scout
Jessie L. TK- 20515 Stormtrooper
Matt S. TX-4202 Shadowtrooper
Roy C. TI-10351 Tie Pilot
Mickey B. TB-81974 Biker Scout
Tim K. IN-1066 Imperial Navy Trooper
Stephanie S. TS-80083 Snowtrooper
Additional Attendees:
Rob S.
Matt S.
Scott A.
Don T.  Stormtrooper
Corey L.
Lawerance G.
Scott A. RL- Chewbacca
Additional Notes:
Troop Photo Links: