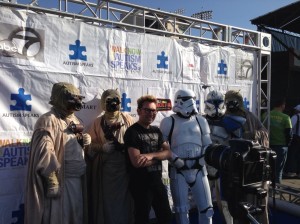 Event Name: Walk Now for Autism Speaks
Event Date: 04/20/2013
Point of Contact: Michael B.
Event Rundown: Walk Now for Autism Speaks is a fun-filled, family friendly event and is our single most powerful force to fund vital research to battle Autism. Autism is the fastest-growing serious developmental disorder in the U.S. The walk was held a the World famous Rose Bowl in beautiful Pasadena, Ca. We not only help raise funds, but we also became part of a fun and supportive family-focused community taking photos with children families. With over 40,000 people in attendance, the day raised $1,743,484 to support the cause. We were proud to be able to participate.
SCG Approved Attendees:
Bryan F. TK-10427 Stormtrooper
Kevin R. DZ-9046 Tusken
Chris H. DZ-13666 Tusken
Steve H. DZ-4092 Tusken
Michael B CC-6682 Clone
Additional Attendees:
Additional Notes:
Troop Photo Links: