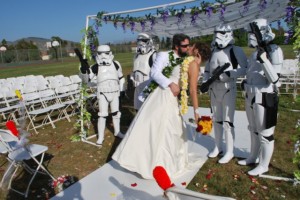 Event Name: Wedding of Veronica & Jeff
Event Date: 05/05/2012
Point of Contact: Daryl H.
Event Rundown: The 501st were requested to provide an "honor guard" of TKs @ the wedding of Veronica and Jeff… and as a surprise for Jeff. Many of the wedding party were already aware of our appearance and very excited to see us. More than a few let out a whoop when they found out we were official 501st members. The wedding was a bit different, being a combination Star Wars/Hawaiian/Jewish themed event. The ceremony was a mix of traditional and contemporary elements. The wedding was awesome and both the wedding party and the guests took lots of pictures with us.
SCG Approved Attendees:
Daryl H. TK-8086 Stormtrooper
Ingrid M. TK-6818 Stormtrooper
Mike J.  TK-9117 Stormtrooper
Rafael G. TK-8616 Stormtrooper
Additional Attendees:
Steve L. Wrangler
Additional Notes:
Troop Photo Links: