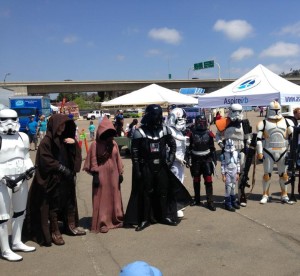 Event Name: Touch-A-Truck for Max's Ring of Fire
Event Date: 06/08/2013
Point of Contact: Jennifer B.
Event Rundown: Members of four costuming clubs and two countries, including 11 501st troopers, participated in the 5th Annual San Diego Touch A Truck to raise funds for childhood cancer. Touch a Truck is a car show for kids – or the kid in you – where all the vehicles are open to climb in and honk the horn. They had Harleys, classic cars, Humvees, big rigs and more! Touch A Truck San Diego is inspired by Max Mikulak who battled cancer for 4 years, before passing away at the tender age of 7. He loved everything on wheels, but more importantly was a HUGE Star Wars fan.This event was an astounding success, raising $63,000 for juvenile cancer research!
SCG Approved Attendees:
Jennifer B. TA-9533 AT-AT Commander
Todd M. TA-8559 AT-AT Driver
Stephanie M. DZ-15983 Jawa
Tom R. TC-8894 Clone Trooper
Victor S. DZ-21782 Tusken
Mark K. TD-50176 Sandtrooper
Owen L. SL-9738 Pre-Armor Vader
Samuel H. TB-1064 Scout Trooper
Jared W. TI-1490 TIE Pilot
Linda C. TK-8365 Stormtrooper
Nick R. TK-4516 Stormtrooper
Additional Attendees:
Rebel Legion:
John B.X-Wing Pilot with R2D2
Roberto Mancera A. Tijuana Outpost Jedi
Maria Elena Hernandez A. Tijuana Outpost Bariss Offee
Wranglers:
Jazlynne W.
John T.
Carrie C.
Additional Notes:
Troop Photo Links: s217.photobucket.com/user/Amendera/library/501st%20Stuff/Touch%20A%20Truck%206-8-13