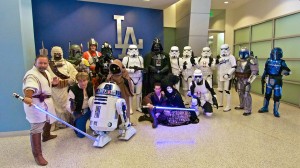 Event Name: Star Wars Night at Dodger Stadium
Event Date: 08/15/2014
Point of Contact: Troy M.
Event Rundown: The Southern California Garrison was invited to participate in the LA Dodgers annual Star Wars night. Characters were split into groups to help welcome fans within the stadium, and Lord Vader with escort threw out the first pitch on the field.
SCG Approved Attendees:
Cory L.  SL-11423  Darth Vader
Troy M.  BH-77847  Boba Fett
Dominick U.  TK-62284  Stormtrooper
Darren M.  TK-88800 Stormtrooper
Francisco O.  TK-19191 Stormtrooper
Ray C.  TI-10351  TIE Pilot
Bryan F.  TK-10427 Stormtrooper
Rob S.  TK-5621 Stormtrooper
Jason C.  BH-32571  Jango Fett
Mickey B.  TB-81974  Scout Trooper
Erick M.  DZ-56180  Tusken
Additional Attendees:
RL:
Dawn B.  Amidala
Shawn C.  Obi-Wan and Yoda
Jeff D.  Han Solo ANH
Gregor S.  Rebel Pilot
Victor F.   R2
Andrew C.  Anakin Skywalker EP II
Wranglers:
Gabriel F.
Bob T.
Joseph P.
Stephanie S.
Jen R.
Kristina M.
Additional Notes:
Troop Photo Links: