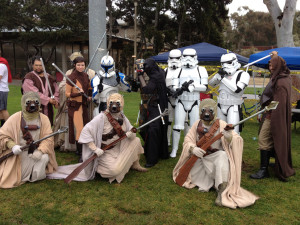 Event Name: UCSD Triangle Fraternity Field Day-Tug of War
Event Date: 01/26/2013
Point of Contact: Lesley F.
Event Rundown: We joined the Triangle Fraternity for their annual Tug of War field day event to raise money for Habitat for Humanity! We put on Exhibition Tug of War matches, took photos, held a "Shoot A Trooper" event, and even did a Jail and Bail. It raised almost $500
SCG Approved Attendees:
Carl A. TK-1437 Stormtrooper
Dean A. TK-2643 Stormtrooper
Kerry L.  SL-6233 Darth Revan
Todd M. DZ-8559 Tusken
Yvette B. TB-337 Scout Trooper
Additional Attendees:
Wranglers
Victor S.
Carrie Ann C.
Jeff P.
Ainsley P.
Christine M.
Carol C.
Rebel Legion
Kristin L.Bastila Shan
Mike M. Jedi
Lesley F. Photographer
Robert C. DZ-9617 Tusken
Kevin R. Tusken
Chris H. DZ-13666 Tusken
Steve S. TK-
Additional Notes:
Troop Photo Links: