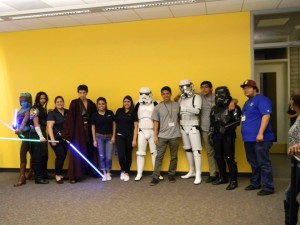 Event Name: Community Science Night at Santiago Canyon College
Event Date: 03/14/2014
Point of Contact: Jennifer B.
Event Rundown: This is the second year in which we have participated in Community Science Night! The event is an annual community outreach event to inspire and excite grade school through high school aged students from the Orange Unified School District in the areas of science, technology, engineering, and math. Star Wars characters from the 501st, Rebel Legion, and Mandalorian Mercs wandered the halls and into the various classrooms, which were set up as laboratories for hands-on learning experiences! Troopers also had a photo-op area where the kids could come take photos with their favorite Star Wars characters!
SCG Approved Attendees:
Rob D. TK-14070 Stormtrooper
Mariannie N. TX-3639 Shadowtrooper
Lauren M. TK-65111 Stormtrooper
Additional Attendees:
Ken H. Stormtrooper
Rebel Legion
Jennifer B. Rebel Fleet Trooper
Alex B. Rebel Fleet Officer
Andrew C. Jedi
Christina A. Jedi
Kristin D. Jedi
Quincy D. Captain Rex
Liz P. Aayla Secura
Sal P. Quinlan Vos
Sam T. Wrangler
Additional Notes:
Troop Photo Links: