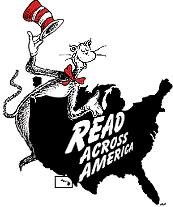 Event Name: Read Across America, Barnard Elementary
Event Date: 03/02/2012
Point of Contact: Lesley F.
Event Rundown:We visited all the classrooms except the kinder classes, and then joined all the children and their parents for an assembly. In each we delivered a "message" from Vader about the importance of reading. It was a very short and sweet visit and a lot of fun.
SCG Approved Attendees:
Dean A.  TK-2643 Stormtrooper
Jazlynne W. DZ-4622 Jawa
Lesley F. 3774
Additional Attendees:
Additional Notes:
Troop Photo Links: