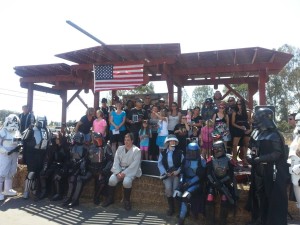 Event Name: A Ride for Inspiration
Event Date: 09/07/2013
Point of Contact: Dave N.
Event Rundown: A Ride for Inspiration is an event hosted by San Diego Harley Davidson to raise awareness for Down Syndrome and to raise funds for the charity DS Action. The event included a set course for bikers beginning and ending at Harley Davidson and a festival for the riders and their families. Members of the 501st Legion, Rebel Legion and Mando Mercs joined to provide atmosphere and photo ops at this event, which raised $10,000 for DS Action!
SCG Approved Attendees:
Dave N. TK-9277 Stormtrooper
Todd M. DZ-8559 Tusken
Owen L. SL-9738 Pre-Armor Vader
Stephanie M. DZ-15983 Jawa
Mark K. TD-50176 Sandtrooper
Additional Attendees:
Rebel Legion:
Jennifer B. Rebel Fleet Trooper
Shawn McG.  Jedi
Wrangler:
Carrie Ann C.
Additional Notes:
Troop Photo Links: