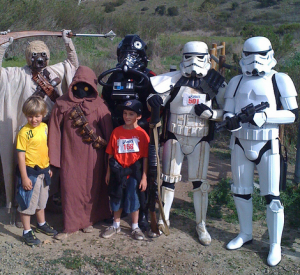 Event Name: Max & Jake's Big Race
Event Date: 02/26/2012
Point of Contact: Ben T.
Event Rundown: This was the 5th annual event. Our changing tent was in a great location located right in the middle of everything. The troops positioned themselves around the Start/Finish line to greet the runners and walkers. After the race was over, the troopers mingled with the crowd for photo ops, listened to live music and were even involved in a juggling act. The event coordinators couldn't have been more happy with our presence at their event and was told that they would love for us to come back again and again.
SCG Approved Attendees:
Dean A. TK-2643 Stormtrooper
Jared W.  TI-1490 TIE Pilot
Jazlynne W. DZ-4622 Jawa
Jeffry B.  TD- 8845 Sandtrooper
Quincy D. CC-6385 Clone
Todd M.  DZ-8559 Tusken
Additional Attendees:
Ben T.
Additional Notes:
Troop Photo Links: bit.ly/AkOCZq