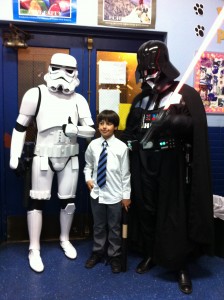 Event Name: Visitation School Talent Show
Event Date: 03/23/2012
Point of Contact: Gino P.
Event Rundown: Conner L. very nicely Played the Star Wars Fanfare on the piano accompanied by Vader and a Stormtrooper for close support. The audience was "wowed" by our presence before, during and after the show, during which – photo opportunities took place. Conner L's mother, Maria came backstage after our performance and thanked us for our participation in the show in support of her son. After losing his father to cancer last weekend, she indicated he was in danger of becoming withdrawn until we arrived. We indicated it was our pleasure to help out.
SCG Approved Attendees:
Giacinto P. SL-2766 Darth Vader
Mark E. TK-7328 Stormtrooper
Additional Attendees:
Additional Notes:
Troop Photo Links: www.southerncaliforniagarrison.com/forums/index.php?app=gallery&album=219