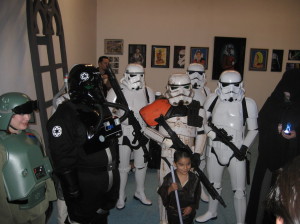 Event Name: Guilty Studios Star Wars Art Show
Event Date: 01/25/2013
Point of Contact: Ingrid M.
Event Rundown: The focus of this event was the display and collection of original Star Wars-inspired art, ranging from paintings to sculptures to boutique items to body painting. The SCG troopers provided atmosphere for the theme, as well as photo ops, line entertainment, and fan/visitor interaction. It was fun to see how excited all the fans were – there must have been over a thousand filtering slowly through the gallery! The organizer is very grateful to have had us in attendance: "Everyone of you played an amazing role at comforting the guest and putting a smile on those that wasted in line while waiting, and we can't say how grateful we are for all the work you guys did."
SCG Approved Attendees:
Alex B. SL-4768 Darth Sidious
Jennifer B. TA-9533 AT-AT Commander
Mario C. ID-8214 Officer
Rafael G. TK-8616 Stormtrooper
Gabriel F. TI-10422 TIE Pilot
Troy M. TK-77847 Stormtrooper
James C. TA-6594  AT-AT Driver
Additional Attendees:
Joseph F.
Bryan F.
Additional Notes:
Troop Photo Links: plus.google.com/photos/100943675145410254300/albums/5838245195146427393