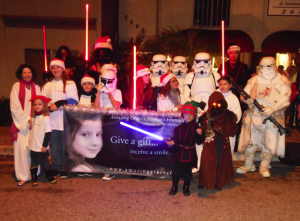 Event Name: Montrose Christmas Parade with AGCF
Event Date: 12/01/2012
Point of Contact: Darrin F.
Event Rundown: We were invited by Jose Gama, founder of the Amazing Grace Children's Foundation, to appear in the Montrose Christmas Parade. By doing so we attracted attention to the charity that will result in some positive public relations for them. The parade route was well-lit by trees and street lights and had a festive holiday theme. The troopers, many who donned various types of Christmas hats, marched behind the Amazing Grace banner and gave the fans a treat! Hundreds of people along the parade route were hootin' & hollerin' in support. In spite of the light rainfall, everyone had a great time!
SCG Approved Attendees:
Darrin F. SL-5588 Darth Vader
Guillermo V. IS-7893 AT-ST Driver
Ingrid M. TK-6818 Stormtrooper
Kerry  L. SL-6233 Darth Revan
Rafael G. TK-8616 Stormtrooper
Gabriel F. TS-10422 Snowtrooper
Lisa Marie V. ID-10176 Officer
Additional Attendees:
Abbigale V. Dark Jedi
Quentin V. Dark Jedi
Jose G. Stormtrooper
Bella G. Princess Leia
Fintan H. Ewok
Additional Notes:
Troop Photo Links: s1114.beta.photobucket.com/user/dkforsythe/library/Montrose%20Christmas%20Parade%20with%20AGCF%2012%2001%2012