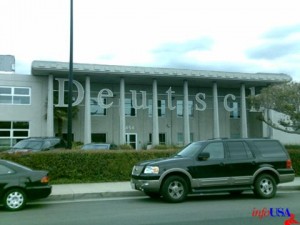 Event Name: Deutsch Advertising Super Bowl party
Event Date: 01/31/2012
Point of Contact: Daniel W.
Event Rundown: We were there as support to debut the newest VW commercial for the Staff.  We split off into to 3 groups and walked the offices and ushered everyone into the the their eating room. Vader was already inside to greet the employees. When everyone was crammed in the room, speeches were given by executives and those who lead the team on the new commercial. We all got to see Barkside and then an early viewing of the new work. Then we took pictures with the staff.
SCG Approved Attendees:
Giacinto P. SL-2766 Darth Vader
Kit S. TK-2384 Stormtrooper
Quincy D. TC-6385 Clone
Rafael G. TK-8616 Stormtrooper
Trevor S. 9087
Additional Attendees:
Rebel Legion
Lisa C. Leia
Rob E. Jedi
Scott M. Jedi
Jessica M. Geonosis Padme
Lawrence G. Jedi Luke
Shawn C. Obi-wan w/Yoda
Wranglers
Jenna L.-
Lori- Photos
Dan-
Additional Notes:
Troop Photo Links: