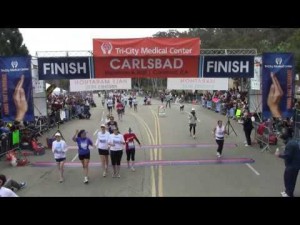 Event Name: Fresh Start Surgical Gifts Water Station – Tri-City Medical Center Carlsbad Marathon and a Half
Event Date: 01/22/2012
Point of Contact: Todd Mullin DZ-8559
Event Rundown: The runners and volunteers from the charity loved having the Star Wars characters at the event.
We cheered the runners on as the volunteers gave them water and snacks. Some runners even stopped in the middle of the marathon to take pictures with us!
SCG Approved Attendees: Todd J Mullin – 8559
Additional Attendees: Tobi Frisch TS-8152
Shawn Mullin – San Diego Star Wars Society
Quinn Pendleton – Mandalorian Mercs
Additional Notes: Wranglers – Christine Mullin and Sarah Stabler
$500 as the winner of the prize for the best water station!
Troop Photo Links: