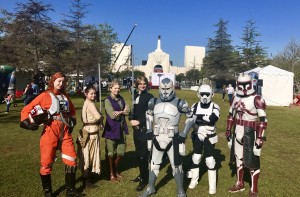 Event Name:Camp McDonald Walk For Kids
Event Date: 04/02/2017
Point of Contact: Greg B.
Event Rundown: We where invited by the Rebel Legion to join in for the Camp Ronald McDonald Walk!
We did lots of photos with all the kids and families there for the walk.
SCG Approved Attendees:
Sarah P. TB-546 Scout Trooper
Kai K. CC-41255 Commander Wolffe
Additional Attendees: Rebel Legion:
Joshua C. Luke
Jasmine P. Rey
Heather W. Leia
Megan N. X-Wing
Andrew B. Commander Fox
Wranglers:
Greg B.
Kelsey L.
Additional Notes:
Troop Photo Links: