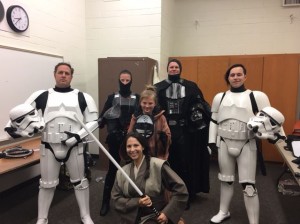 Event Name:BOUSD Elementary Band Spring Concert
Event Date: 05/31/2017
Point of Contact: Rob Stelmar
Event Rundown: The event is an elementary band concert for 4th-6th graders and their families. The theme this year is outer space and the students have been working through a light saber level system called the Jedi Band Academy. The characters will be a surprise to the students at the end of the concert.
SCG Approved Attendees:
Brian C. SL-25259 Darth Vader
Torrey C. DS-77787 Seventh Sister
Jason C. TK-32571 Stormtrooper
Taylor F. TK-21808 Stormtrooper
Additional Attendees:
RL: Natalie B. Jedi
Galactic Academy: Levi C. Jawa
Additional Notes:
Troop Photo Links: